Jana Charyk
B.A. (Hons), D.Ch. – Registered Chiropodist
Jana is the proud owner of the Ajax Foot Clinic. She began her career as a chiropodist in 2003 after graduating from the Chiropody program at The Michener Institute for Applied Health Sciences. Jana became owner of the Ajax Foot Clinic & Orthotic Centre in 2008 and has continued to build the practice into the success it is today. She set her focus on Chiropody after receiving her honours in Kinesiology and Health Sciences at York University. She is a proud member of the Canadian Federation of Podiatric Medicine as well as the Ontario Society of Chiropodist in which she sits on the board to help make important changes for the profession. In her spare time, Jana enjoys Zumba, relaxing, and spending time with her husband and 2 children.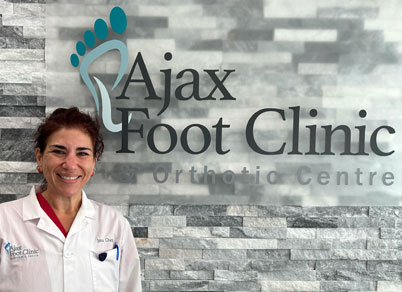 Pauline Looi
B.Sc., D.Pod.M. – Registered Chiropodist
Pauline joined our clinic in August 2009. She studied Health Studies and Anthropology at the University of Toronto where she graduated in 2005 before setting her focus on Chiropody. She is involved with the College of Chiropodists of Ontario as a committee member for Patient relations and Fitness to Practice. She is also a member of the American Podiatric Medical association and Ontario Society of Chiropodist. Pauline has extensive knowledge working with clients with chronic complex diseases such as Diabetes and Geriatrics. Having worked in the Diabetes education program, hospital and community health centres, she has done many workshops and presentations for Diabetic foot health. Empowering and encouraging patients to take a positive step forward is her treatment philosophy.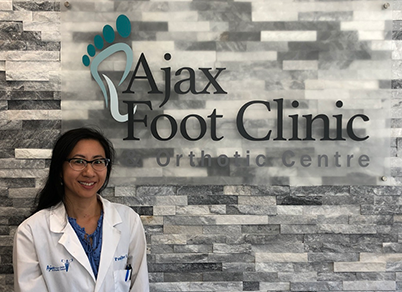 Cyrus Florendo
B.Sc. (Hons), D.Ch. – Registered Chiropodist
Cyrus graduated from the Chiropody program at The Michener Institute in 2011 and has worked at The Ajax Foot Clinic ever since. Through out the many years of working here, he has gained new knowledge and has fine tuned his skills. Cyrus takes great pride in his work and being able to improve his patient's quality of life. Whatever foot related concerns you may have, he is here to help.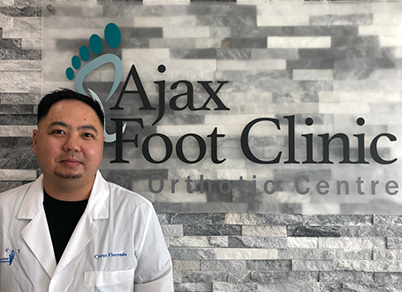 Talia Finkelstein
Hons. BHSc., D.Ch. – Registered Chiropodist
Talia is a compassionate and caring Chiropodist, who strives to improve her patients' quality of life. She is a registered Chiropodist who graduated from the Michener Institute. She is registered and in good standing with the College of Chiropodists of Ontario (COCOO). Talia also holds a Bachelor of Science (Specialized Honours) degree in Kinesiology and Health Science with a certificate in Fitness Assessment and Exercise Counselling from York University.
Talia completed her clinical training at St. Michael's Hospital and Flemingdon Health Centre.
Talia has a special interest in biomechanics, and surgery. She looks forward to help you put your best foot forward.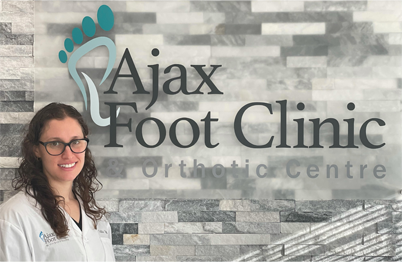 Bessie Piemontese
Office Manager
Bessie is the welcoming voice that you will hear when you call our office. She originally came to the clinic as a patient in 1989 and eventually became our office manager where she works effortlessly to keep the office running smoothly. Her warm smile and helpful attitude will make your visit to the clinic a pleasurable one. She will always make time to answer any questions or concerns you may have.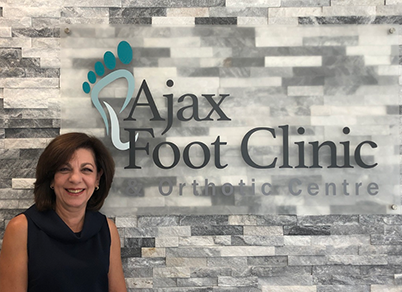 Did You Know?
Even if you didn't put on weight, chances are you went up at least a half-size in the past decade. Feet become both longer and wider as you age because the tendons and ligaments that link tiny bones lose elasticity.